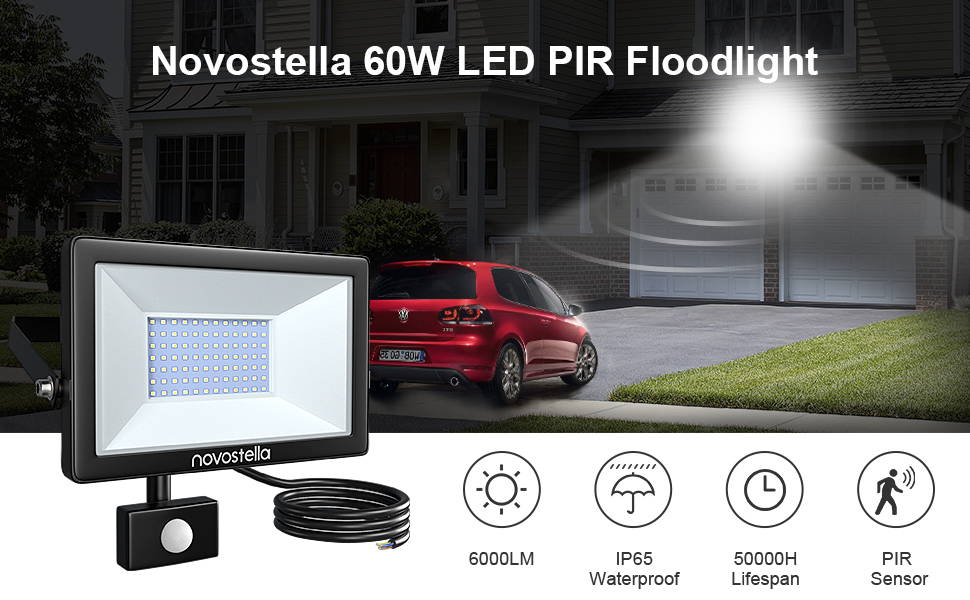 Setting
LUX: Switch to'SUN', sensor works all 24 hrs; to 'MOON' the sensor works only at night.
TIME: Set the light duration time, from 8 seconds to 12 minutes
SENS: Adjust the sensor's sensitivity to movement
Adjustable
Detection distance: up to 12 MetersDetection Range: 0-90°twist-able up and down, 120-180°left and right.
Wide Usage
Perfect for yard, porch, stairs, patio, garage, backyard, garden, pathway, workshops, industrial workstations, storage rooms, basement.

Supreme Efficient Heat Sink:
● Deeper Fin-type Design
● More Space for Heat Dissipation
● 50000+ Hours Lifespan
Super Bright:
● 84pcs High Brightness LEDs
● 6000lm Real Parameters Claim
● Replace 450W Traditional Halogen Bulb
Thicker Housing:
● Adopt Solid Aluminium Alloy
● More Stable and Durable
Rotating Angle:
● 0-180° for The Holder
● 0-90° Up/Down, 0-180° Left/Right for The Montion Sensor
● Meet All Your Needs
● Brand: Novostella
● Item Weight: 3.41 pounds
● Product Dimensions: 11.8 x 10.5 x 3.5 inches
● Manufacturer reference: NTF38-DW-US-F
● Shape Material: Aluminum
● Wattage: 60W

● Colour: RGB
● Waterproof: IP66
● Beam angle: 120 Degrees
● Input Voltage: 120V
● Lifespan: 50000 hrs